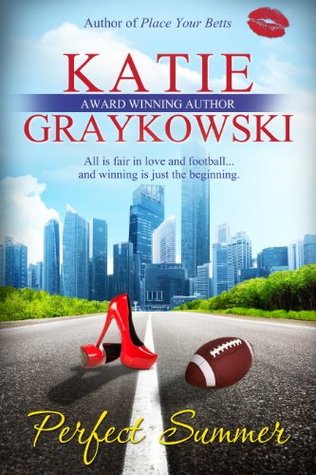 Format: Kindle Edition | File Size: 506 KB | Release Date: October 16, 2013 | Publisher: Self-Published | Obtained: Amazon.com
"Perfect Summer" [The Lone Stars Series, Book 1] by Katie Graykowski
Author's Book Description :
High school teacher Summer Ames is trapped in the nightmare morning from hell. Her alarm clock didn't go off, she accidentally backed over the rosebush her grandfather gave her grandmother right before he accepted defeat against prostate cancer, she's wearing clothes she picked up off the floor, and when she opens the door to her classroom, the lights from the TV cameras nearly blind her. She's won Teacher of the Year. But unlike the past winners, she doesn't get a new car or a Hawaiian vacation or even new school supplies, she wins an over privileged quarterback with a bright smile and questionable intentions.
Clint Grayson is an NFL quarterback in need of a reputation makeover. If he has any hope of landing a hundred million dollar endorsement deal, it will take some pretty impressive PR to clean up his bad boy image. In an attempt to polish his tarnished reputation, Clint agrees to be a high school class mentor.
When these two get together all hell breaks loose and they both learn that all is fair in love and football…and winning is just the beginning.
My Book Review :
2.5 out of 5 stars
. Summerville (Summer) has finally won Teacher of the Year, but instead of earning a new car or a wonderful trip she gets Clint--The Lone Star's Quarterback--as her new class mentor. YAY! Not. However, soon she'll realize that Clint coming into her life is only for the better if she can only get over her insecurities and embrace her unexpected future...
In truth, though I was surprised by the double plot romances (one with Summer and the other with her mother) I really liked how this novel began. It was steady passed and the playful banter between all the characters was very entertaining. However, around 57% of the way through this novel seemed to start dragging and the characters behavior started becoming a little ridiculous especially with all of their insecurities coming out of the woodwork. While I liked the pairings of Summer with Clint and Summer's mother Lillian (Lilly) with Davis (a man who loves her and is thirteen years younger than her), it was only curiosity in finding out the results of those relationships and because I really liked Summer & Davis's characters that had me pushing through to finish this novel.
Overall, I thought it was cute but I was hoping for more. Therefore, I recommend it to those who are fans of Ms. Graykowski or a light-hearted romance.
Purchase This Book and/or The Other Books From It's Series Here :
Author's Novel Extras :
Author's Series Extras :
Book Teaser(s) :
Chopin's Funeral March droned on her iPhone. Her mother's ringtone. Summer didn't reach for the phone. Her latest strategy in mother-daughter relations was to avoid Lillian Summerville Ames like she avoided self-mutilation, handling uranium, and reality TV. It was all about choices. And she was choosing to be an orphan.

~ within Chapter 1




For more information on this book, series, and/or any other books by Katie, then please check out her
website
.