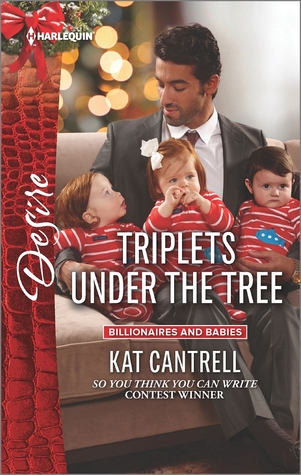 -

This is an ARC book

- Available Formats through Amazon: Paperback - Pages: 192; Kindle Edition - File Size: 534 KB | Expected Release Date: December 1, 2015 | Publisher: Harlequin : Desire | Obtained: NetGalley
"Triplets Under The Tree" [Billionaires and Babies Series] by Kat Cantrell
Author's Book Description :
This Christmas, he'll meet his three babies for the first time…and desire their mother in a whole new way!
After a plane crash robs him of his memory, billionaire fighter Antonio Cavallari comes home for the holidays to find triplets—and their "mother"—waiting. Antonio doesn't remember surrogate Caitlyn Hopewell, but he has triplets depending upon him. Who else can he turn to except the woman raising his children…and making him burn with desire?
Caitlyn has longed for Antonio secretly for years. Now she's living in his home, loving his babies…living the life with him she's always wanted. But then Antonio's memory returns. And the secrets he's forgotten will change everything…
My Book Review :
3 out of 5 stars
, Caitlyn's life changed the day she learned her sister and her brother-in-law's (who she secretly had a crush on since she first met him) plane crashed killing them both. At that time, she was devastated to lose them but since she was pregnant with the couples' babies (triplets) because she was their surrogate, it made it all more drastic. Therefore, from that point on her life changed because she lost her family but went from Aunt/surrogate to mother of those babies in an instant. Now, about a year later, her life radically changes again when her brother-in-law suddenly comes back to the living (he was missing never dead) and to reclaim his life, which is hard to do when you have amnesia. Together they find ways to overcome it all, and become very close, but as the truth about his past and his marriage finally comes to light, will they still be able to deal with everything that comes their way together or will it be all too much to handle?
I'm really not sure of my own views about this novel. I am striving to be thrilled about its plot but it's just so hard. I mean I REALLY liked Caitlyn and Antonio (Falco) together and how they managed their relationship once he came back to his home. I also liked both of their characters' self-worth, I guess you would call it, and how they go about making amends to one another after the big reveal happens. Nevertheless, I am still trying to overcome Antonio and his wife's (Caitlyn's sister) backstory. To say I wasn't happy about it is an understatement but I do get that the way it's written gives the novel a basis of reality to it instead of it being more of a fairytale style. I get that, I just wanted more of the fairytale I guess. Or to have Antonio have noticed Caitlyn more prior to his accident.
Overall, though, I have to say this novel was well written and thought out. It covered a majority of the bases and kept you wanting more.
I recommend this novel to those looking for a unique take on the surrogate mother contemporary romance.
Purchase This Book Here :
My Previous Review(s) for Kat Cantrell :
Mindlink
|
Matched to a Billionaire
|
The Invention of Marriage
My Previous Review(s) for the Billionaires and Babies Series :
Baby Bonanza
|
The Nanny Bombshell
|
Baby for Keeps
|
The Sheikh's Son
|
Royal Heirs Required
|
Triple the Fun
|
The Billionaire's Daddy Test
|
The CEO's Unexpected Child
My Previous Mention(s) of this Author's Books/Characters :
Best Book Couples -- Happy Valentine's Day 2014
Author's Novel Extras :
Triplets Under The Tree - Overview
Book Teaser(s) :
"Caitlyn and I are going shopping today," Antonio announced out of the blue when everyone finished eating.
"We are?" Did they have some Christmas presents to buy that she'd forgotten about? "It's two days until Christmas. The stores will be insane."
"I believe I have adequately demonstrated my ability to dispense with holiday crowds," he countered with a smirk.
"So that's your solution to everything now? Just buy out the whole store?"
"When I find something that works, I stick with it. You might consider thanking me for that." His dark gaze flickered with promise, and yesterday, such innuendo might have made her blush, but she was a worldly woman now. So she stuck her tongue out at him instead.

~ within Chapter 10
Book Preview(s) :
For more information on this book, series, and/or any other books by Kat, then please check out her
Amazon Acct
.