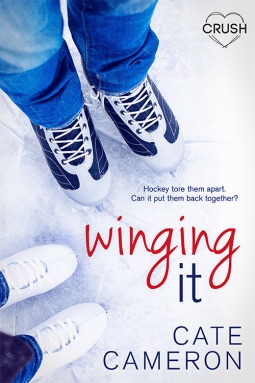 Today I'm showing off
Cate Cameron
's "
Winging It
," which is her recently released novel (in Paperback), also the soon-to-be released novel (in e-Book), and the THIRD book in her
Corrigan Falls Raiders Series
!!
---
"Winging It"
[Corrigan Falls Raiders Series, Book 3] by Cate Cameron (aka Kate Sherwood)
Author's Book Description :
Disclaimer: This Entangled Teen Crush book contains adult language, ice-melting kisses, and a swoon-worthy hero. This fake relationship romance will have you wishing for a hockey player of your own…

Natalie West and Toby Cooper were best friends growing up, on and off the ice. But when Toby's hockey career took off, their friendship was left behind. Now Natalie has a crazy plan to land her crush—Toby's biggest rival—and she needs Toby's help to pull it off.

When Nat asks Toby to be her fake boyfriend, he can't say no. Not when it means getting his best friend back. But Natalie is all grown up now, and spending time with her—even when it's just playing hockey together—stirs up a lot of feelings, old and new. Suddenly pretending to be interested in her isn't hard at all…if only she wanted him and not his enemy.

Hockey tore them apart. Can it put them back together?
This book is available to order on :
Amazon (e-Book) USD | Amazon (Paperback) USD | Barnes & Noble (NOOK Book) USD | Barnes & Noble (Paperback) USD | Shop Your Local Bookstores (IndieBound - Paperback) USD | Kobo (e-Book) USD

** Be sure to add it to your TBR pile on Goodreads & LibraryThing! **
---
About the Author :
Cate Cameron grew up in the city but moved to the country in her mid-twenties and isn't looking back. Most of her writing deals with people living and loving in small towns or right out in the sticks - when there aren't entertainment options on every corner, other people get a lot more interesting!

She likes to write stories about real people struggling with real issues. YA, NA, or contemporary romance, her books are connected by their emphasis on subtle humor and characters who are trying to do the right thing, even when it would be a lot easier to do something wrong.
My Previous Review(s) for this Series :
Book 1
My Previous Mention(s) of this Author's Books/Characters :
Second Sentence Saturday: Center Ice
|
The Books I'm Thankful For (so far) in 2015
|
Best Book Couples -- Happy Valentine's Day 2016
---
Book Excerpt(s) :
That was when a too-familiar voice came to me from the far end of the corridor. "Toby! Hey, man, nice practice!"

I turned around. He was my cousin, so, tempting as it was, I couldn't just ignore him. "Hey, Scott. Welcome back." I tried to sound as if I meant it, but it wasn't like I was going to fool him. He knew how I felt about him, just like I knew how he felt about me. No real point in pretending otherwise, but I generally tried, at least until he did something to piss me off. It usually took about thirty seconds.

"Congratulations on the World Juniors thing!" he said, and now he was close enough to give me a congratulatory shoulder punch. "You're a big shot, huh? We saw the interviews and everything. Very smooth. We should go down to the city sometime and get you a better haircut and maybe some new clothes. Right? Could the team give you a clothing allowance or something?"

Nice. Triple whammy. I'd looked shitty on TV, I couldn't possibly look better without his help, and I didn't have as much money as he did so I'd have to look for alternate funding. All said in such a friendly way that I'd be the asshole if I got mad about it. Classic Scott. "I appreciate the offer," I said without any attempt to sound sincere, and that was when I realized how close Nat was standing to me. She was tall for a girl but still a couple inches shorter than me, and she'd wedged her shoulder practically into my armpit. "Uh, you remember West?" I said to Scott.

He gave her one of his smiles. "Of course, yeah. How've you been? You're looking good."

And then, I swear to God, I felt her arm wrap around my waist. "I am good," she said, and there was something weird about her voice. It was…I don't know, softer than usual? Can a voice be light? She hadn't taken it as far as I had when I was making fun of her, but something was different, for sure. She sounded…girlier.

Scott had clearly noticed how close she was standing, his eyes flickering from her face to mine, trying to work out the situation. Trying to figure out how to use it to his advantage. "I heard about you and Dawn," he said to me. "I'm sorry. I thought you guys were going to be one of those epic couples. Start going out in high school and then grow old together."

"Nope," I said, and that was all. I'd known Scott long enough to realize that anything I told him could and absolutely would be used against me. So I wasn't exactly sorry to have Nat there as a way to distract Scott from whatever he was up to. I just wished I could figure out what she was up to.

Things didn't get much clearer when she dug her fingers into my ribs to get my attention then half turned without really backing away. Nat was a friend and I'd known her forever, but that didn't make me totally immune to the sensation of her soft chest rubbing along my side. "I have to go," she told me, and her voice was still sweeter than I was used to. "But I'll call you, okay? When I get off work?"

"Okay," I said cautiously. I didn't know what the hell was going on, but a phone call seemed like a pretty good way to figure it out.

"Great," she said, and then she smiled in a way I'd never seen her smile before, stretched up onto her tiptoes, and kissed me. On the lips. Just a peck, and I was definitely too shocked to kiss back or do anything more than stand there like a deactivated robot, but…well, that was not our standard way of saying good-bye. Not by a long shot.
---
Find Cate Cameron :
This was put together by myself (From Me to You ... Video, Photography & Book Reviews) please contact me if you'd like your own promo post.