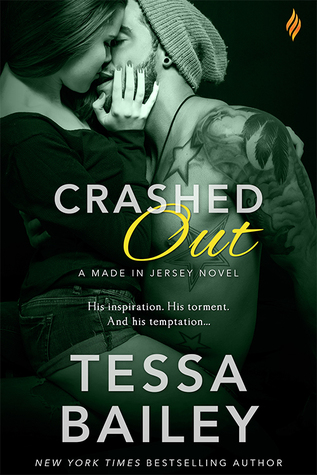 -

This is an ARC book

- Available Formats through Amazon: Paperback - Pages: 208; Kindle Edition - File Size: 908 KB | Expected Release Date: November 9, 2015 | Publisher: Entangled Publishing : Brazen | Obtained: NetGalley
"Crashed Out" [MADE IN JERSEY Series, Book 1] by Tessa Bailey
Author's Book Description :
His inspiration. His torment. And his temptation...
Jasmine Taveras is the reason Sarge Purcell grabbed his six-string and bailed the hell out of New Jersey four years ago. She's the fuel for every song he's ever written-each one laced with bitter, hard-edged, hungry lust. Now, with his hugely successful band is on temporary hiatus, Sarge is determined to prove to Jasmine that this "kid" turned into every inch the man she's always needed...
Men are slim pickings for a single factory girl in Hook, New Jersey...until tall, broad-shouldered hotness walks-or rather storms-into Jasmine's life. Sarge's return shouldn't affect her this way. He's her best friend's much younger kid brother, and the kind of rough, gritty, sexiness Jasmine has no right to taste for herself. Even if he lets her.
But lust is a blinding, insatiable force. And when it crashes, it will take both Sarge and Jasmine down with it...
My Book Review :
5 out of 5 stars
!! Ever since he was young, his older sister's best friend, Jasmine (Jas), has fascinated Sarge. Over the years, that fascination has turned into a big crush and a bit of an obsession. Therefore, when he was eighteen and realized Jasmine wasn't noticing him he took off for LA to make a name for himself as a musician, which he did. Now, four years later, he's back home in Hook, NJ to catch up with his sister and to find a way to overcome his obsession with Jasmine once and for all. Yet Sarge soon finds out that getting over Jasmine is easier said than done...
This tantalizing erotic romance is not only steamy it has a great plotline too! Extremely hot because of Sarge's domineering ways, made me just want to read more about Jasmine and him. Jasmine might be seven years older than Sarge but that doesn't stop their chemistry from igniting and quickly bringing their relationship into something more than remembered friendship. Sarge and Jasmine make a wonderful couple! In addition, I liked how Sarge brought Jasmine out of her shell and how Jasmine cared for Sarge as much as she did.
One twist I enjoyed was how Sarge's older sister, River, took Sarge & Jasmine's relationship in stride. Basically, I'm use to reading that the sibling (whether older or younger) would be upset that their best friend hooked up or even got into a relationship with their sibling. So, I was happy to see that wasn't an issue in this novel. Making it that the only thing that could keep Sarge & Jasmine apart were themselves and their fears.
Very well written! I LOVED Sarge (if you couldn't already tell).
I HIGHLY recommend this novel to those who are looking for an erotic contemporary romance that deals with a sexy rock star and some holiday magic!
Purchase This Book and/or The Other Books From It's Series Here :
Kobo (e-Book) : Thrown Down (Book 2)
|
Amazon (e-Book) : Rough Rhythm: A Made In Jersey Novella (1001 Dark Nights) (Book 1.5)
|
Amazon (Paperback) : Rough Rhythm: A Made In Jersey Novella (1001 Dark Nights) (Book 1.5)
|
Amazon (e-Book) : Thrown Down (Book 2)
My Previous Mention(s) of this Author's Books/Characters :
A (belated) Release Day Blast / Spreading the Word: CRASHED OUT by Tessa Bailey, HIS TO TAKE by Katee Robert, & SAY YOU'RE MINE by Diane Alberts
|
Second Sentence Saturday: Crashed Out
Author's Novel Extras :
Author's Series Extras :
MADE IN JERSEY Series - Overview
Book Teaser(s) :




Book Preview :
For more information on this book, series, and/or any other books by Tessa, then please check out her
Amazon Acct
.