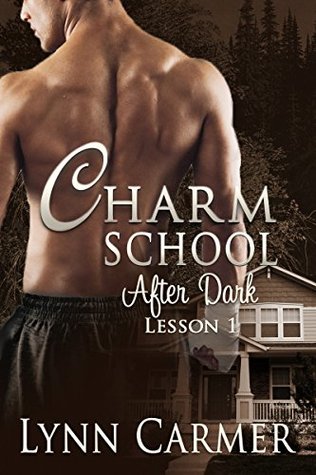 -

This is an ARC book

- Available Formats through Amazon.com: Kindle Edition - File Size: 2483 KB | Expected Release Date: March 30, 2015 | Publisher: Self-Published | Obtained: Juniper Grove Book Solutions
"Charm School After Dark: Lesson 1" [Charm School Series, Book 1] by Lynn Carmer
Author's Book Description :
Caelen Calvo has three meddling sisters, an employment problem, a married ex-boyfriend, and a massive headache from all the drama. Pass the wine, please. Her only hope of redemption comes in the form of a charm school that she and her sisters have recently inherited. The problem? The real money comes, not from manners and etiquette, but from naughty, after hour, classes that the sisters must take over and teach.
Caelen draws the short straw. The first topic on the charm school's roster, well, let's just say it involves her mouth and a man's . . . Thrill Drill. If she were a cheerleader, she would chant: Give me a B to the J, rah, rah, rah—Caelen has four short days to research advanced techniques like The Corn on the Cob and The Twist and Twirl . . . plus prep the charm school for a blowout party and – oh yeah – find a man willing to be her temporary guinea pig.
Dare Lagos has been in love with Caelen since middle school. The former professional boxer, turned firefighter, has always fought for what he wants. The battle for Caelen's heart is no different. Doesn't matter that they used to bicker, endlessly, back in the day. Doesn't matter that he has a cheating ex-wife that created serious trust issues. And it shouldn't matter that he's been suspended from his job as a Hot Shot, because he may have over-reacted when his ex-wife's Boy Toy was assigned to his station. Nope. None of that matters except the taste of her smart mouth, the feel of her smooth skin and the smell of her sultry scent surrounding him. He wants Caelen Calvo—and he's going to make sure that the only name on her short-list, is his.
My Book Review :
3.5 out of 5 stars
! While the Calvo Quads are informed that their mentor left her Charm School to them in her will, they are also informed about the harsh situation the school is in. First – the Charm School is in dire financial straits. Second – there is someone who hopes to take the school from them. Then Third – their mentor's plan to save the school was to host afterhours private classes for women who need a little help in the bedroom and they only have four days left to learn what they can before the first class. Because of an argument that the quads have it becomes apparent to Caelen that she'll be in charge of the first class, especially if she wants to keep the school. So, Caelen does what she can to find out everything about her mentor's first topic, blowjobs. Now if she can find the right man so help her out. Her old nemesis looks to be the perfect guy for her, and he is so very willing. Yet as they grow closer and find they want more than their four-day compromise, both of their pasts come back into their lives to haunt them. Can they trust one another and love one another enough to see everything through?
This uniquely erotic contemporary romance really sets up a nice pace for itself and the rest of its series. Funny, bright, and VERY steamy this novel seems to have it all! I really liked how Caelen and Dare come to terms with their attraction and get together. Then to top it off with the way Caelen tries to find her balance with him and how Dare deals with her eccentricities, it made me want to root for their relationship even more. My only wish was that the parts of the novel that were the "build ups" for this series weren't so drawn out, as at times it left me a bit distracted and confused as to where the plotline would lead us.
Nevertheless, I do recommend this novel and series to those looking for a quick-witted erotic romance!
Purchase This Book and/or The Other Books From It's Series Here :
Author's Novel Extras :
Book Teaser(s) :
Caelen was back! And it was time for her to see how much he'd changed.
It will be different this time. He made the silent promise to himself as he imagined showering her with compliments instead of insults. She would feel the full power of his attention, instead of his sloppy, teenage jabs.
Holy hell. Just like that, life was good again.
Let the insanity begin.

~ within Chapter 2
"But hell, baby. I love your outfits. I love every sexy inch of skin that teddy showed off."
Joy sang in her heart. Yes! "So, I was right! It totally made it better."
"Of course it did."
"I knew it."
Then he ruined her smug triumph by saying, "'Cuz you're practically naked!"

~ within Chapter 20
For more information on this book, series, and/or any other books by Lynn, then please check out her
website
.