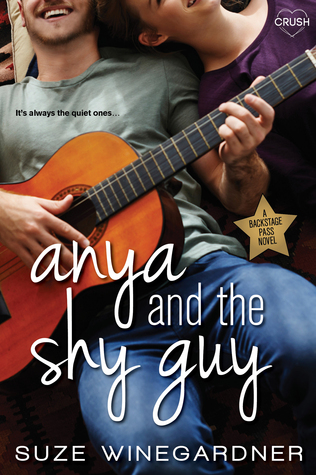 -

This is an ARC book

- Available Formats through Amazon.com: Paperback - Pages: 183; Kindle Edition - File Size: 1272 KB | Expected Release Date: July 14, 2015 | Publisher: Entangled Publishing : Teen : Crush | Obtained: NetGalley
"Anya and the Shy Guy" [Backstage Pass Series, Book 4] by Suze Winegardner
Author's Book Description :
Suze's first YA book will be publishes TODAY, July 14th, 2015 by Entangled Publishing's Crush Imprint. It is part of the "Backstage Pass Series" which details the adventures of a boy-band on their first national tour

It's always the quiet ones…
Anya Anderson doesn't just need a big break, she needs any break. Living on the streets doesn't leave a girl many options, so when she scores a gig reporting on the Seconds to Juliet tour, she jumps at the chance to earn enough money to sleep somewhere safe. And the paycheck will get bigger if she can dig up dirt on Will Fray, the irritatingly cute "shy guy" of the band.
Problem is, Will Fray isn't who everyone thinks he is. In fact, he's not Will at all. The guy onstage is actually Matt, Will's identical twin, who's reluctantly covering for his brother while he's in rehab. To make matters worse, Matt's being shadowed by a cute reporter with troubled eyes determined to get the scoop. On
him
.
If the secret gets out, it won't just be his head on the platter—it'll be the whole band's. But Matt's having trouble finding the willpower to keep his distance…and he's not so sure he wants to.
This Entangled Teen Crush book contains steamy make out scenes, graphic language, and a love story so hot your copy may spontaneously burst into flames. You've been warned.
My Book Review :
4 out of 5 stars
! Since the age of fifteen, Anya has been living on the streets. Now two years later, she finally gets a "big brake" by taking a job as a freelance journalist trying to get the inside scoop about Will "The Shy Guy" from the group Seconds to Juliet. However, not everything is all rosy because she unintentionally lied about her age to get the gig and after meeting Will, she's not sure that if she learns any of his secrets that she'd be willing to divulge them to the public like that. As Anya gets closer to Will though she's finding that not everything is adding up, is he too good to be true or is he hiding a bigger secret than she originally suspected?
I REALLY liked how its plot flowed! Mostly because if it went off, as I feared it would, that Will would come back without Matt telling Anya about their "deceit" before Will showed than I'm not sure I'd have enjoyed it as much as I did. Therefore, I'm VERY happy with how everything turns out in this novel!! As it happens Anya meets Will's identical twin brother Matt who is playing the role of Will until his twin gets out of recovery, but no one but Trevin knows the truth about the farce. It's like a more grownup version of
The Parent Trap
. With the slight twists that this novel pulls, I was enamored with it!
While Matt is more of the extrovert compared to his twin's shyness, I still could not get enough of him! I found him to be sweet, funny, and very charismatic. In truth, he charmed me just as much as he did Anya! Then as you read about Anya not being as "edgy" as she portrayed herself to be, I fell in love with them as a couple! In addition, I liked that you kind of get to see Will get together with someone too by the end of this novel.
I recommend this novel to those who are already a fan of the Backstage Pass series and/or if you're looking for a sweetly fun contemporary, YA romance!
Purchase This Book and/or The Other Books From It's Series Here :
Kobo (e-Book) : Aimee and the Heartthrob (Book 1)
|
Kobo (e-Book) : Mia and the Bad Boy (Book 2)
|
Kobo (e-Book) : Daisy and the Front Man (Book 3)
|
Kobo (e-Book) : Anya and the Shy Guy (Book 4)
|
Amazon.com (Kindle Edition) : Aimee and the Heartthrob (Book 1)
|
Amazon.com (Kindle Edition) : Mia and the Bad Boy (Book 2)
|
Amazon.com (Kindle Edition) : Daisy and the Front Man (Book 3)
My Previous Review(s) for this Series :
Book 2
|
Book 3
Author's Novel Extras :
2015 brings a new book deal!
|
It'ssssssss here!
Authors' Series Extras :
NEW SERIES- NEW COVERS!
|
Book Cover Reveal for Daisy and the Front Man (Backstage Pass # 3)
|
Happy RELEASE DAY for DAISY AND THE FRONT MAN/giveaway/booktrailer
|
#TeaserTuesday Mia & The Bad Boy
Book Teaser(s) :
"What do you need?" He poured a cup of coffee from the carafe and held the cup up in the silent You want some? gesture.
Trevin shook his head. "What I need is for you to stop singing 'I'll wash your back' when it should be 'I'll watch your back.' You might not think anyone can hear you, but I can hear you, and you can bet your ass that LJ can hear you, too."
Matt leaned against the counter. Huh.
"Well that certainly makes more sense given the rest of the lyrics." He pulled open a drawer and dug the songbook Will had written for him. Bastard. "Sorry, dude. The little bastard wrote 'I'll wash your back.' He always did love messing with me."
Trevin grabbed the book and read through it. "Hey, we can give him the benefit of the doubt. He was in pain when he wrote this for you. Give me a pen."
Matt chucked him a pencil, and Trevin started scribbling in the book. Shit. It looked like he'd been singing the wrong words to a bunch of songs. No wonder Trevin had stopped by to check up on him.

~ within Chapter 2




— Jessica (@fromjesstoyou) July 25, 2015
For more information on this book, series, and/or any other books by Suze, then please check out her
website
. For more information about this series check out
The Backstage Pass Series Facebook Page
and/or
The Backstage Pass Series Website
.