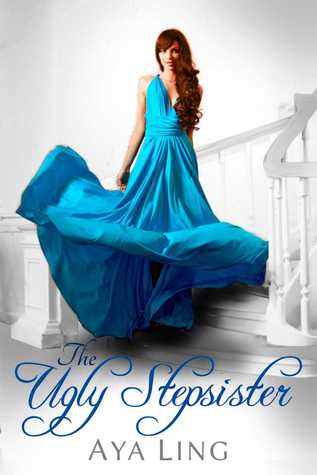 -

This is an ARC book

- Available Formats through Amazon.com: Paperback - Pages: 452; Kindle Edition - File Size: 535 KB | Expected Release Date: June 10, 2015 | Publisher: Self-Published | Obtained: NetGalley
"The Ugly Stepsister" by Aya Ling
Author's Book Description :
To-do list:
*Persuade the prince to give the ball
*Learn how to act like a noble lady
*Find fairy godmother
*Prevent other stepsister from sinking her claws into Prince Charming
*Find out why Cinderella has a mother and two brothers in the poorhouse
When Kat accidentally rips apart an old picture book, she's magically transported into the world of Cinderella--as Katriona, one of the ugly stepsisters! Life turns upside down now that she's a highborn lady and must learn how to survive the social season, including how to get through the door in a huge metal hoop skirt. To get back, she'll have to complete the story, right to the end of happily ever after. But the odds are huge: the other stepsister is drop-dead gorgeous, the fairy godmother is nowhere to be found, and the prince, despite being insanely hot, openly dislikes balls. Can she ever return to the modern world?
My Book Review :
4.5 out of 5 stars
! Typical shy seventeen-year-old Kat (Katherine/Katriona) transforms into a confident young lady after being sent into the Cinderella story-world because she fell and accidentally "broke" the Goblin kings book. Her only way home or back to her family and her "reality" is by insuring the Prince's (Edward) happily-ever-after. But with her being thrown into the "ugly stepsister" role, finding that her "sister" is model-worthy gorgeous, and that she suspects her maid (Elle) is really Cinderella yet she's without proof, Kat isn't sure how she'll accomplish her goal of getting home. Nevertheless, she's determined no matter what obstacles or lovelorn hearts get in the way...
I LOVED this novel!!! I just wish that the scenes after the happily-ever-after happen could have been a bit more magical, I suppose, as if those scenes were more magical than I'd definitely have given it the full 5 stars. However, I was enchanted with how Kat puts up with and tries to change the storybook world for the better. It was endearing, entertaining, heartwarming, and delightful!!! I was so wrapped up in every scene (I laughed, got teary-eyed, etc.) that I wish it didn't have to end.
As a huge fan of fairytales, I thoroughly enjoyed reading about the new twists this Cinderella plot had and how you could see both Edward and Kat falling for one another even though she fights it to the very end. They were a very forward-thinking fairytale couple that charmed me. I couldn't get enough of their relationship.
I HIGHLY recommend this novel to those looking for an intriguing YA fantasy fairytale romance!
Purchase This Book Here :
Kobo (e-Book) : The Ugly Stepsister
Author's Novel Extras :
The Ugly Stepsister - Overview & Excerpts
|
First Draft of Ugly Stepsister Done!
|
Sequel simmering
|
Endless Editing
|
Fairy Tale Retellings: Cinderella
|
Endless Editing
|
Excerpt from The Ugly Stepsister (I)
|
Endless Editing
|
Excerpt from The Ugly Stepsister (I)
|
Excerpt from The Ugly Stepsister (part 2 & 3)
|
Excerpt from The Ugly Stepsister (part 4)
|
Excerpt from The Ugly Stepsister (part 5)
|
Excerpt from Ugly Stepsister (part 6)
|
Excerpt from Ugly Stepsister (part 7)
|
Excerpt from The Ugly Stepsister (part 8)
|
Excerpt from The Ugly Stepsister (part 9)
Book Teaser(s) :


"Doesn't the prince have a say in his own future bride?"
Bianca smirks, but Claire actually looks thoughtful. "His character, from what I have heard, does lean heavier toward making his own decisions, but since he hasn't shown a strong attachment for any woman, he might not care if his parents choose a bride for him."
Dang. Please don't let it turn out he's gay. How am I to marry Elle to the prince if he swings in the other direction? She is most definitely not a man in drag.

~ within Chapter 5
In the courtyard I look for my carriage. But after a frantic search, all I find is the pumpkin, shrunk back to its normal size. The coachmen and horses have transformed as well; in fact, the cat is chasing after the mice under the carriages.
No. Freaking. Way.

~ within Chapter 41
For more information on this book and/or any other books by Aya, then please check out her
website
.