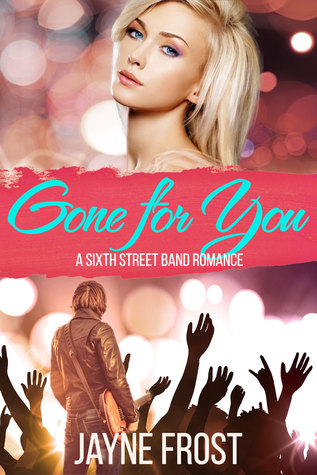 -

This is an ARC book

- Available Formats through Amazon.com: Paperback - Pages: 174; Kindle Edition - File Size: 524 KB | Expected Release Date: April 28, 2015 | Publisher: Sixth Street Press | Obtained: Upgrade Your Story
"Gone for You" [Sixth Street Bands Series, Book 1] by Jayne Frost
Author's Book Description :
As the guitarist for the rock band Caged, I know the rules: no relationships. No complications. Leave 'em smiling when you go, but always go. Besides, it's not like I'm ever in one place for more than a few days at a time. As the next hottest thing out of Austin, the band and I are riding the wave, and the music is all that matters.
Until her…
Lily Tennison has "complication" written across her beautiful face. But I can't get involved. The timing's all wrong. But she's under my skin, and I can't resist her troubled eyes and sweet smile. And I do have a little time to kill. Not much, just a few days in Dallas.
So I'll scratch the itch and move on, like I always do.
Simple, right?
Note: You won't need to turn up the heat—Sixth Street Bands Romances have plenty of steamy fun. This story can be read as a stand-alone but is part of the Sixth Street Bands music scene.
My Book Review :
4 out of 5 stars
! Rock star guitarist, Cameron, has a good life. However, when his friend, and bandmate, is placed in the hospital Cameron's life is sidelined by the need to stay in one place for an extended period of time. During that time, he meets Lily. Lily comes from a well-known Texas family, who disowned her when she decided to do what she always wanted with her life by becoming an artist, and sets Cameron's life on fire as he goes about pursuing her. Yet, are they meant for only a few good memories or something more worthwhile?
While I loved the cover its book description didn't really sell me on this novel, who helped want to read it was
Eat Sleep Read Review
's own review for this novel as it explained a lot. Now that I've read this novel, I can say that I was pleasantly surprised that I liked reading from a single POV standpoint, Cameron's POV to be exact, as much as I did. Cameron is forthright in his beliefs and wants making it hard for the reader not to agree with him. Plus, I found his attraction and "chase" for Lily to be very endearing. They are very sweet together. In addition, while I still wished I could read a bit from Lily's perspective, I liked the way Cameron handles everything that came his way. He was the perfect "reformed" playboy rock star hero!
I hope to see the rest of Cameron's band matched up as this series progresses! I recommend this novel to those looking for a lighthearted yet sultry rock star romance!
Purchase This Book and/or The Other Books From It's Series Here :
My Previous Interview(s) with this Author :
April 2015
My Previous Mention(s) of this Author's Books/Characters :
Blog Tour: Gone for You by Jayne Frost | Interview, Spreading the Word & Gift Card/Novel Giveaways
Author's Novel Extras :
Pinterest: Gone For You
|
Sneak Peek: GONE FOR YOU
|
PreLaunch Giveaway for GONE FOR YOU—$100 Sephora Gift Card & Signed Book!
|
It's ALIVE! GONE FOR YOU Launch Day & Giveaway Is Here!
Book Teaser(s) :
She took a calming breath. "What exactly can I get for you, Mr. Knight?"
Holding the pen so tightly I could see the white in her knuckles, she waited for me to tick off my list.
"The workout clothes I mentioned. Size large. A couple pairs of jeans. Boot cut. Size 32x36. T-shirts and socks." Draping an arm over the back of the couch, I looked her up and down. "And underwear."
Scribbling furiously, she didn't look up. "Boxers, briefs..." Her pen finally came to rest, and a smile hitched up one side of her lips. "...or panties?"
I choked on the piece of melon trying to make its way down my throat. Coughing and sputtering, I leaned forward. Lily casually walked to the table, handing me the half empty bottle of water.
Grabbing it from her, I took a large swallow. A couple of tears sprang to my eyes as I looked up at her. The girl was way too cocky for her own good. Clearing my throat, I took another swig, finishing the bottle.
"Well?" She looked at me innocently.
"Boxers," I growled.

~ within Chapter 3








For more information on this book, series, and/or any other books by Jayne, then please check out her
website
.