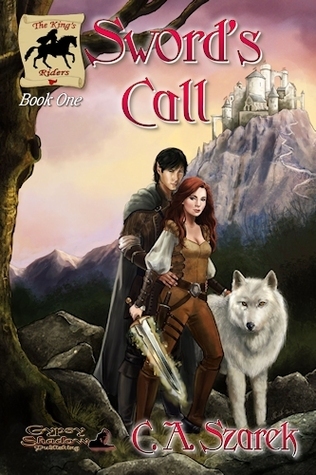 Format: Kindle Edition | File Size: 4114 KB | Release Date: February 21, 2013 | Publisher: Paper Dragon Publishing | Obtained: Amazon.com
"Sword's Call" [The King's Riders Series, Book 1] by C. A. Szarek
Author's Book Description :
For generations, the Ryhans, ruling family of the Province of Greenwald have been keepers of a sword rumored to possess enough magic to defeat kings. Lord Varthan, a former archduke and betrayer of the king, covets the sword and invades Greenwald.

Lady Ceralda Ryhan, daughter of the murdered duke, gains the sword and flees, trusting only her white wolf, Trikser—magically bonded to her. Cera needs nothing more to aid in her fight.

Jorrin Aldern, half elfin and half human, left his home in the mountains of Aramour to find his human father who disappeared twenty turns before, but finds Cera with Varthan and his shades on her tail instead. His dual heritage and empathic magic will tempt Cera in ways she never thought she'd desire. But can he convince her trust and love can pave the path to redemption or will the epic battle end in tragedy and evil conquer them all?
Cover Art for "
Sword's Call
" by
Nicole Cadet
My Book Review :
3 out of 5 stars
! Ceralda (Cera) is out for revenge. Her whole family has been brutally murdered while she was away and now she is on the run with hope of killing the man who murdered them along the way. While on her way to her Uncle's castle, Cera meets a half-elfin empath named Jorrin, who decides to help her accomplish her quest. They grow very close during their journey. Yet, are they willing to open up to one another for good or will they muddle up the best thing that could happen to them? Also, will Cera be able to exact her revenge or will her courage falter?
I was familiar with Ms. Szarek's writing style prior to purchasing this novel when it was on sale. I found that when it comes to this novel I enjoy its plot, the world everything was set in, and the characters. However, what was annoying was some of the drawn out character descriptions and how the main characters (Cera & Jorrin) always seemed to think that
not
communicating was the best course of action for them. *shakes head* Nevertheless, I'm glad I stuck with it as it really built up the series well.
As for Cera & Jorrin's relationship, I thought when they did actually talk to or followed through on their lust for one another then they were great. It just they are both SOO stubborn that when they get upset (which happens quite a bit) their communication goes out the window, which made me want to smack them both upside their heads by the end of the novel.
Overall, I DO recommend this novel and series to those looking for an eclectic fantasy romance!
Purchase This Book and/or The Other Books From It's Series Here :
Smashwords (e-Book) : Sword's Call (Book 1)
|
Smashwords (e-Book) : Love's Call (Book 2)
My Previous Review(s) for this Author :
The Fae Ring
|
The Parchment Scroll
My Previous Mention(s) of this Author's Books/Characters :
Teaser Tuesday: The Parchment Scroll
|
Best Book Couples -- Happy Valentine's Day 2015
Author's Novel Extras :
Sword's Call - Overview & Excerpt
|
The Alphabet Game (Writer Alphabet Soup?)
|
A is for Ash
|
B is for Book
|
C is for Cunning
|
E is for Effort
|
F is for Forsaken
|
G is for Gown
|
H is for Home
|
I is for Intuition
|
L is for Lucan
|
M is for Mine
|
O is for Oracle
|
S is for Second
|
U is for Union
|
W is for Wail
|
Six Sentence Sunday: Sword's Call Teaser
|
Art Art Art!
|
Cover Reveal SWORD'S CALL! *squeeeeeeeeeeeee*
|
Three Sentence Thursday: Sword's Call!
|
IT'S MY BOOK'S BIRTHDAY!!!!!!!!!!!!!!!!!
|
Three Sentence Thursday: Sword's Call
|
Sword's Call Virtual Signing is NOW LIVE!
|
Tell Me About it Tuesday: Sword's Call Makeover!
Author's Series Extras :
The King's Riders Series - Overview
|
Love's Call - Overview & Excerpt
|
D is for Dragon
|
J is for Jonah
|
N is for Night
|
T is for Touch
|
V is for Valley
|
X is for Xander
|
Six Sentence Sunday: First Meeting
|
Author Tag: I'm IT!
|
COVER REVEAL!!!!!!! Love's Call!
Book Teaser(s) :
"Trikser." Her smile was brilliant when the wolf looked at her, tail wagging. Jorrin's heart quickened. "Want to go outside?"
Her bondmate rose to all fours and headed for the door before either of them. When they didn't come immediately, he glanced over his shoulder.
"See? He understands me." Cera threw him a smug look and crossed her arms over her breasts.
Jorrin chuckled and shrugged.
They slipped out the door, leaving Hadrian and Avery deep in discussion. Neither seemed to notice that they'd left.
"All right, then, elf-boy. Show me what you got."
He laughed and had to restrain himself from kissing the look off her face.

~ within Chapter 6


For more information on this book, series, and/or any other books by C. A., then please check out her
website
.