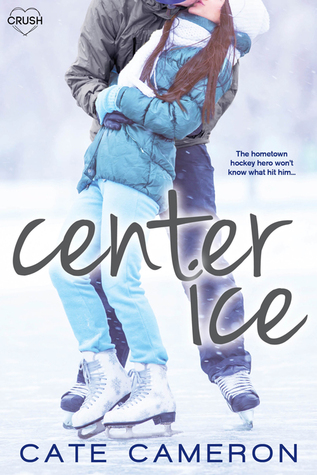 -

This is an ARC book

- Available Formats through Amazon.com: Kindle Edition - File Size: 1108 KB | Expected Release Date: May 19, 2015 | Publisher: Entangled Publishing : Teen : Crush | Obtained: NetGalley
"Center Ice" [Corrigan Falls Raiders Series, Book 1] by Cate Cameron
Authors' Book Description :
This Entangled Teen Crush book contains adult language, underage drinking, sexual situations, and crazy squirrels. It may cause you to become a fan of hockey—or at least hot hockey players.
The hometown hockey hero won't know what hit him…
Karen Webber is in small-town hell. After her mother's death, she moved to Corrigan Falls to live with strangers—her dad and his perfect, shiny new family—and there doesn't seem to be room for a city girl with a chip on her shoulder. The only person who makes her feel like a real human being is Tyler MacDonald.
But Karen isn't interested in starting something with a player. And that's all she keeps hearing about Tyler.
Corrigan Falls is a hockey town, and Tyler's the star player. But the viselike pressure from his father and his agent are sending him dangerously close to the edge. All people see is hockey—except Karen. Now they've managed to find something in each other that they both desperately need. And for the first time, Tyler is playing for keeps…
My Book Review :
5 out of 5 stars
!! This novel reels you in with crazy squirrels than hooks you with a romance that is intensely sweet. When Tyler and Karen meet, their lives are stacked against them. As their relationship grows, they decide what they really want for themselves and what they are willing to do to help accomplish their goals.
I was riveted by this dramatic YA novel. Karen's life is in turmoil; she just lost her mother in a car accident and is now living with her father's "perfect" family. Never meeting her father prior to the accident, she doesn't know how to cope other than with her daily running. While running she meets Tyler and they quickly go from "friends" into a relationship that seems to help them both. Yet, Tyler's life isn't much better than Karen's is. He's a hockey player with a good chance to make it into the NHL after this final year, but with a father and agent demanding everything and more from him, the pressure is getting to be too much to handle. Both (with the help of Karen's "new" family) find that being together makes them stronger and better to equipped to handle whatever/whoever comes their way.
I loved Tyler and Karen's banter. They were a playful fun couple that were fun to read! I HIGHLY recommend this novel to those looking for an intense YA contemporary romance!
Purchase This Book and/or The Other Books From It's Series Here :
Kobo (e-Book) : Center Ice (Book 1)
Author's Novel Extras :
Another cover!
|
Oooh! A pretty!
|
Things Are Heating Up on the Ice…and Off the Ice
|
#1 Best Seller!
Book Teaser(s) :
"The kids don't have allergies, so it wouldn't be in theirs."
"Of course no allergies," I agreed. That would be a flaw, and imperfections were not allowed in this household. I was tempted to find a way to expose them to angry squirrels just to test the theory, but it seemed like a pretty complicated plan would be required.
I followed Will out to the bottom of the staircase and waited for him there. I'd never been upstairs in this house. I mean, I'd only lived there for about a week, so it wasn't a huge deal. My bedroom and a small bathroom were in the basement, food and the doors to outside were on the main floor...that was all I needed. And absolutely all I wanted. These people were strangers, and there was no need for me to see their bedrooms. Not unless I was putting squirrels between their sheets. ~ within Chapter 1 - titled 'Karen'




For more information on this book, series, and/or any other books by Cate, then please check out her
website
.