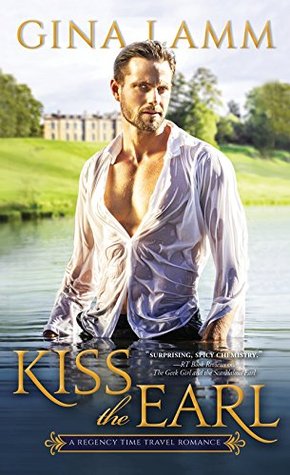 -

This is an ARC book

- Available Formats through Amazon.com: Paperback - Pages: 384; Kindle Edition - File Size: 1043 KB | Expected Release Date: April 7, 2015 | Publisher: Sourcebooks Casablanca | Obtained: NetGalley
"Kiss the Earl" [Geek Girls Series, Book 3] by Gina Lamm
(aka Regina Cole)
Authors' Book Description :
A modern girl's guide to seducing Mr. Darcy
When Ella Briley asked her lucky-in-love friends to set her up for an office party, she was expecting a blind date. Instead, she's pulled through a magic mirror and into the past…straight into the arms of her very own Mr. Darcy.
Patrick Meadowfair, earl of Fairhaven, is too noble for his own good. To save a female friend from what is sure to be a loveless marriage, he's agreed to whisk her off to wed the man she truly wants. But all goes awry when Patrick mistakes Ella for the would-be bride and kidnaps her instead.
Centuries away from everything she knows, Ella's finally found a man who heats her blood and leaves her breathless. Too bad he's such a perfect gentleman. Yet the reluctant rake may just find this modern girl far too tempting for even the noblest of men to resist…
My Book Review :
4 out of 5 stars
! An old "witchy" housekeeper is at it again, this time by throwing Ella back into the 1800s. While there, she finds herself kidnapped by a "Mr. Darcy" type of Earl and thrown into one calamity after another. However, what will they do when their hearts get involved?
I have mixed feelings about this novel. While I have always enjoyed Pride & Prejudice along with Mr. Darcy, and agree that this novel deserves the 4 star rating I'm giving it, at times it felt like Ms. Lamm was laying it on a bit thick with the amount of troubles Ella & Patrick kept running into. In addition, towards the end I was ready to hit Patrick senseless myself because of how his "gentlemanly ways" were going to destroy him. In addition, I was surprised with how forgiving Ella was to Patrick's friend Amelia and Amelia's love interest, as I don't think I could've been that nice to them after everything they did.
Nevertheless, I enjoyed this novel for Ella's forthrightness, Patrick's protectiveness, and the growing relationship between them. If you are a fan of Mr. Darcy & Elizabeth Bennett then you will like Patrick & Ella. They both deal with getting over major amounts of pride as their feelings grow for each other. Patrick & Ella are a great match!
I recommend this novel to those who are fans of the series and/or if you are interested in a time travel romance!
Purchase This Book and/or The Other Books From It's Series Here :
IndieBound (Paperback) : The Geek Girl and the Scandalous Earl (Book 1)
|
IndieBound (Paperback) : Geek Girls Don't Date Dukes (Book 2)
|
IndieBound (Paperback) : Kiss the Earl (Book 3)
|
Kobo (e-Book) : Geek Girls Don't Date Dukes (Book 2)
|
Alibris (Paperback) : The Geek Girl and the Scandalous Earl (Book 1)
|
Alibris (Paperback) : Geek Girls Don't Date Dukes (Book 2)
Author's Novel Extras :
Cover Reveal! KISS THE EARL (Geek Girls #3)
Book Teaser(s) :
Forgetting his own name would be preferable to dealing with the madwoman in his bedroom and the madwoman he was supposed to have run off with tonight.
Bloody females. He should have become a priest.

~ within Chapter 4
Tossing the rest of her cards down in disgust, Ella shoved to her feet. "It would help if you'd take this game seriously, cat."
A low, rumbling purr was the only answer.
Ella crossed the bedroom to the window, happy to feel how much better her foot was able to painlessly bear her weight. It had been a few days since that weird little incident in the library, and like a big fat coward, Ella had stayed right here in this room, completely avoiding Patrick. She'd read the books Mrs. Templeton had brought her, played more games of solitaire than she cared to admit, and finally, out of desperation, decided to deal the cat in.
That hadn't really gone well.

~ within Chapter 18
For more information on this book, series, and/or any other books by Gina, then please check out her
website
.