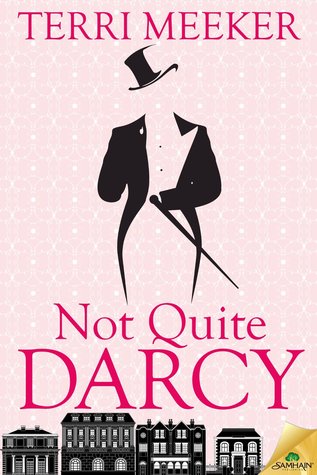 -

This is an ARC book

- Available Formats through Amazon.com: Paperback - Pages: 274; Kindle Edition - File Size: 745 KB | Expected Release Date: January 6, 2015 | Publisher: Samhain Publishing | Obtained: NetGalley
"Not Quite Darcy" by Terri Meeker
Author's Book Description :
How to Woo a Gentleman and Weaponize Dessert
Romance novel junkie Eliza Pepper always thought she was born too late, but now she really is stuck in the wrong time. Tasked with mending a tear in the timeline, she's trying desperately to fit into 1873 London. But dang it, mucking out a fireplace while looking like the lunch lady from hell is hard.
If she can just keep from setting the floor on fire and somehow resist her growing attraction to the master of the house, she'll be fine. All she has to do is repeat her mantra:
"He's nothing like Darcy. He's nothing like Darcy."
William Brown has always taken pride in his mastery of English decorum, but his new maid is a complete disaster, has thrown his household into chaos…and he finds her utterly captivating.
Though he's willing to endure extreme physical discomfort to keep their relationship in proper perspective, her arrival has brought out a side of him he never knew existed. And Eliza has an innocently erotic knack for coaxing that decidedly ungentlemanly facet of himself out to play…
My Book Review :
3.5 out of 5 stars! A historical romance novel fan gets the deal of a lifetime, an offer to travel back in time to help with a "mission"---of which she really knows nothing about---for a short while. Now if she can just obey the rules, especially the biggest one ... not to form any lasting connections and not fall in love.
This was an interesting take on reading about the 'Victorian Era.' I liked that Ms. Meeker held back no punches in not romancing London during that time period, showing how subservient life really was for those who were in those roles. In addition, I thoroughly enjoyed reading it all from Eliza's (Bessie) viewpoint, with her quick wit, it was very amusing the way she described everything around her and how her time-period's "common phrases" seemed to flummox those around her.
As for William, while I agree he wasn't Darcy, he had such a sweet way about him that once he let out his "inner bad boy" I liked him just as much as Eliza did! Also, it was refreshing for this type of novel to have a hero (William) who was so open to Eliza's eccentricities. They worked well together and it felt like as long as they had on another they could've taken on the world.
Yet, while I liked the ending, I wish it wrapped up a bit "sweeter" or just more fleshed out, I guess. Nevertheless, thus far this has been my favorite time travel novel that I've read.
I recommend this novel to those looking for an intriguing historical romantic dramedy!
Purchase This Book Here :
Kobo (e-Book) : Not Quite Darcy
Author's Novel Extras :
Not Quite Darcy - Overview
|
Working on Thanksgiving Day Sucks. But Oh the Plight of the Victorian Maid.
|
Free Marital Advice!
|
Party Like It's 1899
|
Launching Darcy
Book Teaser(s) :
She struggled info her still unfamiliar clothes, her head numbed with sleep. After struggling with the strange, split-crotch pantaloons, she pulled her maid's uniform over her head.
"Not-so-little black dress, I hate you already," she grumbled. "It's like my life is being directed by Tim Burton. With any luck, William's best friend will turn out to be Johnny Depp and he'll be my mission here. He's American, after all. A girl can hope."

~ within Chapter 6
"A toast. To William!" She gave him a wide grin. "For slaying the Great Uncle Dragon."
He laughed. "I hardly think that I---"
"No. You stood up to him. You looked him in the eye and told the old windbag to fuck a duck."
To have carnal relations with poultry? Her mind truly went to the most amazing places. He tried to come up with a response, but she placed her fingers on his cheek.
"I was so proud of you." She raised her glass to drink and he joined her in the toast.

~ within Chapter 23
For more information on this book and/or any other books by Terri, then please check out her
website
.