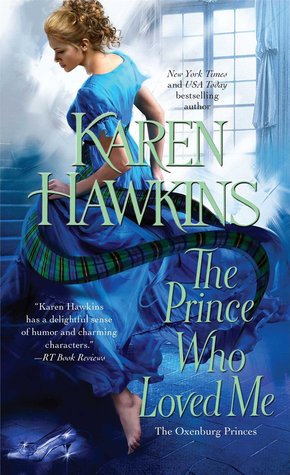 -

This is an ARC book

- Available Formats through Amazon.com: Paperback - Pages: 355; Kindle Edition - File Size: 4308 | Expected Release Date: September 23, 2014 | Publisher: Simon & Schuster : Pocket Books | Obtained: NetGalley & Karen Hawkins
"The Prince Who Loved Me" [The Princes of Oxenburg Series, Book 1] by Karen Hawkins
Author's Book Description :
COMING SEPTEMBER 2014, the first book in the Princes of Oxenburg Series, THE PRINCE WHO LOVED ME!
Romance sizzles in this Cinderella story set in Scotland, the first in a sparkling new spinoff series from
New York Times
bestselling author Karen Hawkins.
Prince Alexsey Romanovin enjoys his carefree life, flirting—and more—with every lovely lady who crosses his path. But when the interfering Duchess Natasha decides it's time for her grandson to wed, Alexsey finds himself in Scotland, determined to foil her plans. Brainy, bookish, and bespectacled, Bronwyn Murdoch seems the perfect answer—she isn't at all to the Duchess's taste.
Living at the beck and call of her ambitious stepmother and social butterfly stepsisters, Bronwyn has little time for a handsome flirt—no matter how intoxicating his kisses are. After all, no spoiled, arrogant prince would be seriously interested in a firm-minded female like herself. So…wouldn't it be fun to turn his "game" upside down and prove that an ordinary woman can bring a prince to his knees…
My Book Review :
4 out of 5 stars!! A unique retelling of Cinderella, where the "fair maiden" tries to "beat" the Prince at his own game of seduction. A smartly flirtatious novel that makes you hope the heroine will catch her man!
I really liked Alexsey & Bronwyn's (Roza) romantic "courtship," they were very cute together. Then when Bronwyn found out about Alexsey's wishes for his time in Scotland I liked how Bronwyn thought she would be able to become in control of everything without getting her own emotions involved, it was sweet and funny of her. In truth, I admired her as a heroine, yet I also found her to be naive more so then most of the "innocent" heroines I've read about before. She's naive in a way that it was hard for me to admire her after a while when she kept saying one thing then doing another.
Nevertheless, the only thing that I didn't like about this novel was how Bronwyn's stepmother (who's portrayed as a ditzy but sweet lady) acts out like the actual stepmother in Cinderella does at the very end (even if it was suppose to be for Bronwyn's own good). It made me second-guess this novel a bit, mostly because I liked the secondary characters. Yet, luckily, to my relief, the end helped ease my fears and wrapped up very nicely. It was especially nice to see that one of Bronwyn's stepsisters got to find love too.
I recommend this novel to anyone who is fans of Ms. Hawkins, a fan of her Duchess Diaries Series, and/or like historical romances!
Purchase This Book and/or The Other Books From It's Series/Connected Series Here :
My Previous Review(s) for this Author :
Sleepless In Scotland
|
How to Treat a Lady
My Previous Mention(s) of this Author's Books/Characters :
Second Sentence Saturday: The Prince Who Loved Me
Author's Novel Extras :
Cover Reveal!
Book Teaser(s) :


He sniffed.
Ah! The rosemary! Holding her breath, she waited.
He sniffed again. "Is it an herb, nyet?"
She nodded, smiling shyly. "Rosemary."
"The cook at Tulloch puts it in turtle soup."
Her smile faltered. She smelled like a turtle? Not a fragrant loaf of bread, but a turtle? "Surely you've smelled it in some other dishes, too. Bread, perhaps?"
He shook his head.
"In a delicious stew, then? Something savory and warm?"
He released her cloak. "In my country, we throw rosemary onto graves."
She just looked at him, appalled.
"That seems odd to you, nyet? Rosemary keeps fresh the . . . How do you say---?" He tapped his forehead. "Thoughts about times no longer here."
"Memories?"
"Da! Rosemary keeps fresh the memories of the dead."
Lovely. She smelled like a turtle and the grave.

~ within Chapter 20
For more information on this book, series, and/or any other books by Karen, then please check out her
website
.