"Rumspringa's Hope"
[The Spirit of the Amish Series, Book 1] by Beth Shriver
Author's Book Description :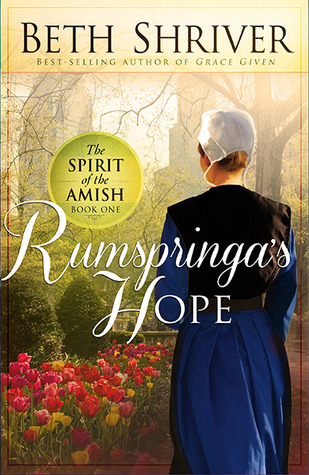 Torn between the affections of two men, will Emma's time away from home help her choose? Although promised to the widowed neighbor Zeb, Emma is considering leaving her Amish community to watch over her younger brother Mark when he leaves for Philadelphia to explore the outside world during his Rumspringa. There, she reconnects with her former beau Caleb, who protects the Amish teens, introducing them to his life evangelizing and helping the homeless. Unbeknownst to Emma, Caleb is glad for the opportunity to spend time with her and hopes to win her back. Struck by the power of evangelism and outreach, Emma begins to feel a draw to Caleb's way of life. When she doesn't return home when she promised, Zeb goes to the city to find her, forcing Emma to choose in which of their two worlds she really belongs. SERIES DESCRIPTION: Three young Amish women face overwhelming obstacles and must struggle to find out who they are and what they believe. Although each is dealing with her own unique situation, they all must discover how to follow their dreams and stay true to themselves, whether their journeys take them away from--or back to--their Amish communities.
Purchase This Book and/or The Other Books From It's Series Here :
** Be sure to add it to your TBR pile on Goodreads! **
---
About the Author :
Childhood memories of her grandfather's ranch came alive as Beth wrote her first Amish story. Her parents grew up in the country, so she appreciates pastoral life and respects those who make a living off the land. She visits a nearby Amish community just south of Fort-Worth for an occasional church service or brunch with the bishop and his wife. And on the way home she stops at the community store to get some plum jam!

Beth received a degree in social work and psychology from the University of Nebraska. She worked as a caseworker for Boulder County Department of Social Services before starting a family. Beth and her husband, two children, along with two cats and a beagle live in Texas after moving from their first home in Colorado. She freelances for the local papers in her area and writes columns, devotionals for magazines, and novels in a variety of genres in both fiction and nonfiction.
---
Giveaways!! :
Don't miss the first book, "Rumspringa's Hope," book one of Beth Shriver's new Spirit of the Amish series.
Beth is celebrating the series launch with a Kindle Fire Giveaway!
One winner will receive :
A Kindle Fire
A copy of "Rumspringa's Hope" by Beth Shriver
To Enter :
Enter today, but hurry! The giveaway ends on June 22nd.
Winner will be announced June 23rd on
Beth's blog
.
Don't miss a moment of the fun; enter today and be sure to stop by Beth's blog on June 23rd to see if you won.
---
Find Beth Shriver :