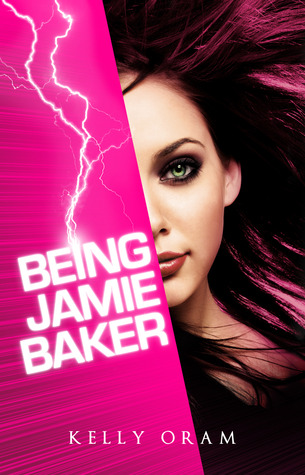 Format: Paperback | Pages: 353 | Release Date: June 2010 | Publisher: Bluefields
"
Being Jamie Baker
" by
Kelly Oram
( I read this as a part of We Love YA!

A young adult arc tour site

)
My Book Summary :
A year and a half ago, Jamie was in an accident that changed her life forever, turning her into a
super
human. She has
super
-speed,
super
-hearing, and more!! But out of fear that this secret will get out she has made it a point in trying to avoid relationships with everyone, except her parents, and even though she is one of the hottest girls in school, this has made her an outcast. Or as she likes the title the Ice Queen.
However, after receiving a dared kiss from Ryan, her high school's star quarterback, and her world changes yet again. Because as much as she would like to keep that distance between Ryan and herself, he seems to knock down all of her defenses as soon as she puts them up. But when he gets to close to the truth, will he spill her secret or change her world yet again?
My Book Review :
4 out of 5 stars! Jamie and Ryan keep you on your toes in this novel, that is more sci-fi comic then anything, from Jamie's battles with being herself to admitting to things that have happened in her past that she hadn't been able to deal with before Ryan came into her life. They make a VERY cute couple! I can definitely see this becoming a series to really get into, so if the author writes a sequel I will definitely be getting a copy!
Author Book Trailer :
If you can't see/watch the above video then click here to watch it.
Book Teaser(s) :
"What?"
"Let's do it again!"
If my face was pale before, now it was white as a ghost, and Ryan laughed at my expression. "I don't mean the whole getting zapped part," he said. "Though I always wondered what it would feel like to get Tasered. FYI? It sucks. But you are seriously the best kisser in the entire world. So worth it. And did you see that? For a minute I was strong like you!"
Ryan grunted as he got to his feet. After stretching all his stiff muscles, he stepped toward me with open arms.
"Are you suicidal?" I screamed, putting a good twenty feet between us instantly.

~ within Chapter 15
For more information on this book and/or any other books by Kelly, then please check out the book's
website
.
---
** This site is a participant in various affiliate advertising programs through Amazon.com, Rakuten Marketing, Commission Junction, IndieBound, Smashwords, Book Depository, and more that are designed to provide a means for Jess to earn minimal advertising fees by showcasing the areas you can purchase the corresponding products that Jess discusses within her blog posts.
All of these affiliate links are obvious as to which ones they are. **
---
Related Posts :